SEOUL: KOLI 2017
If you know me (or even if you don't tbh), you'd know I have a special love for all things skincare and all things Korean. SO when I got the opportunity to travel to Seoul with Korean skincare (!!!) brand The Face Shop PH, I was a very happy girl. This year especially I've been dabbling in using different Korean skincare brands to see what works best with my skin, so getting the opportunity to learn about the inner mechanics of skincare lines such as Dr. Belmeur and Yehwadam was a treat ♡
Our wonderful friends at The Face Shop managed to help us make the most of our two full days from skincare/make up classes and buffets to ski trips and visits to Lotte Tower. The perfect introduction to both Korea and the brand itself, read on for little insights on what we got up to!!
(Tap on the photos to see more)
DAY 1
TFS Key Products Introduction
The best days start with a breakfast buffet and follow with beauty talk. Naturally, KOLI went exactly like that. We filled up on anything (or everything) the hotel breakfast had to offer and afterwards, got to learn all about the good stuff!
Enter: Dr. Belmeur's Daily Repair and Clarifying lines
The beauty of human beings is that we are all different. This also includes our skin. From dry and sensitive to oily acne-prone skin, it's important to understand what skin type you have and the way it reacts to different products. This means testing out different brands or skincare routines and observing the way it registers with your skin. During KOLI we got to learn about how different ingredients target different skin problems, so I'l summarise it neatly for you :-)
DRY/SENSITIVE SKIN: Daily Repair
The Dr. Belmeur Daily Repair line ensures exactly that; daily repair for those with dry/sensitive skin who are prone to everyday elements causing issues. Even something as simple as wiping your face with a towel can cause damage to people with sensitive skin, so the Daily Repair line uses a blend of ingredients including Skin-sync Rx™ and takes out a number of additives to ensure the most natural and and low-irritant formula for your skin.
ACNE-PRONE SKIN: Clarifying
Also additive free and making use of Skin-sync Rx™, the Clarifying line absorbs excess oil and allows for the skin to breathe whilst soothing and providing moisture. Maintaining a balanced level of oil and moisture, this particular line is good if you're like me and tend to get a lil bit shiny 😅
Up next: Yehwadam
For all u old people out there ;) KIDDINGGG!! It's never to early to get into anti-ageing skincare– so let ~Yehwadam~ help you prepare. Combining traditional Korean herbs, ginseng and flowers (including other ingredients such as pine mushrooms and goji berries), the Yehwadam anti-ageing line works to regenerate, invigorate, and revitalise (wow sophisticated verbs) the skin and battle signs of premature ageing. Yessss to that!!!
Makeup Class with Mr. Kisung Lee / Flat Velvet Lipstick & Monocube Eyeshadow
Learning about the latest trends in K-Beauty through The Face Shop's newest Flat Velvet Lipstick and Monocube Eyeshadow lines was made a breeze through Mr. Kisung Lee's makeup class! He showed us different techniques popularised in Korea's current makeup scene and how to achieve the barely-there look that we've all come to associate with Korean beauty. The Flat Velvet Lipstick should be noted in particular for its rectangular shape at the tip, making it easier to use more of the product with an even spread and not grind it down to a tip like we would with normal lipstick bullets. The Monocube Eyeshadow palette was a treat, since we got to pick our favourite shades and received a custom palette at the end!!
Flagship TFS Store Visit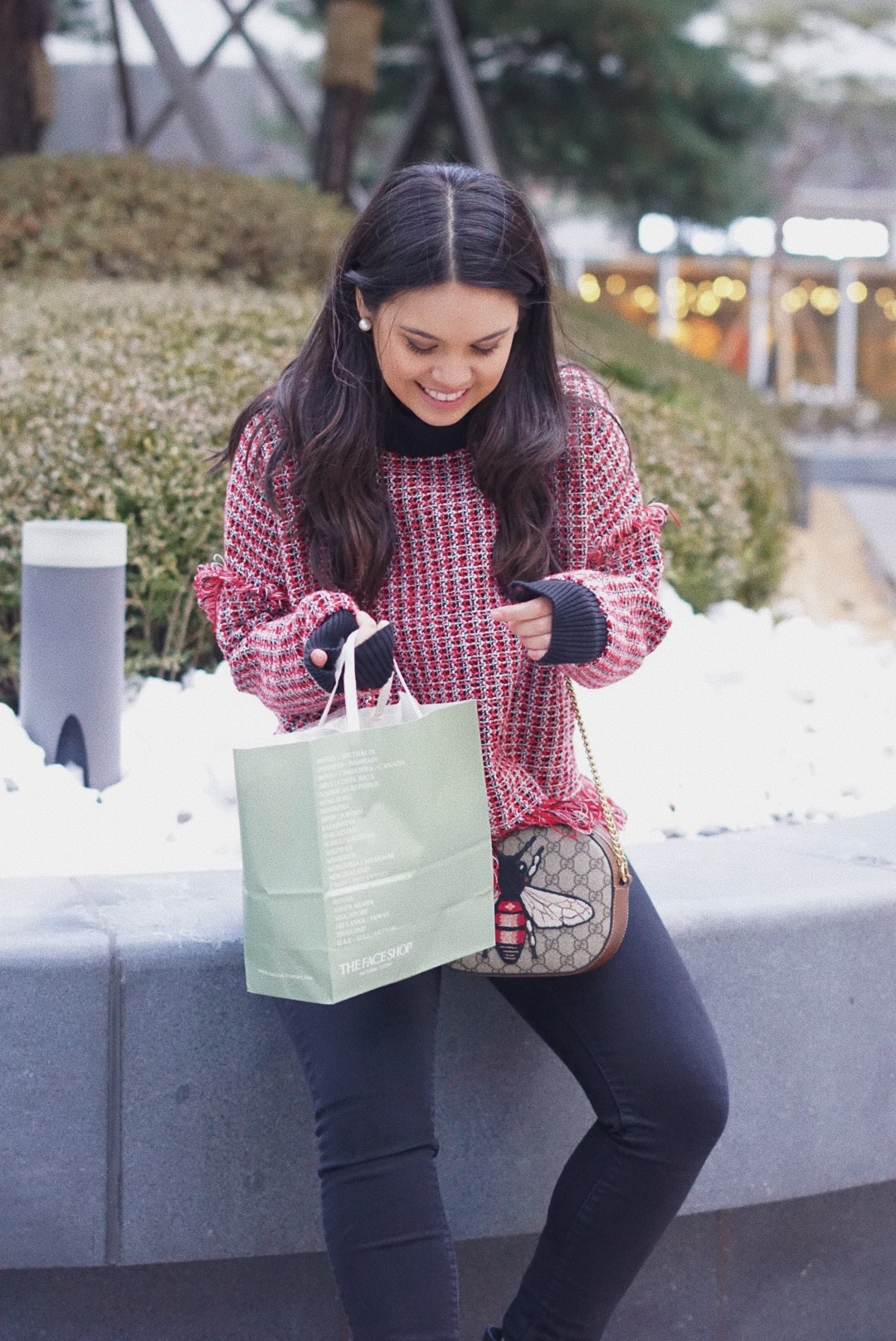 Lotte World Tower Observation Deck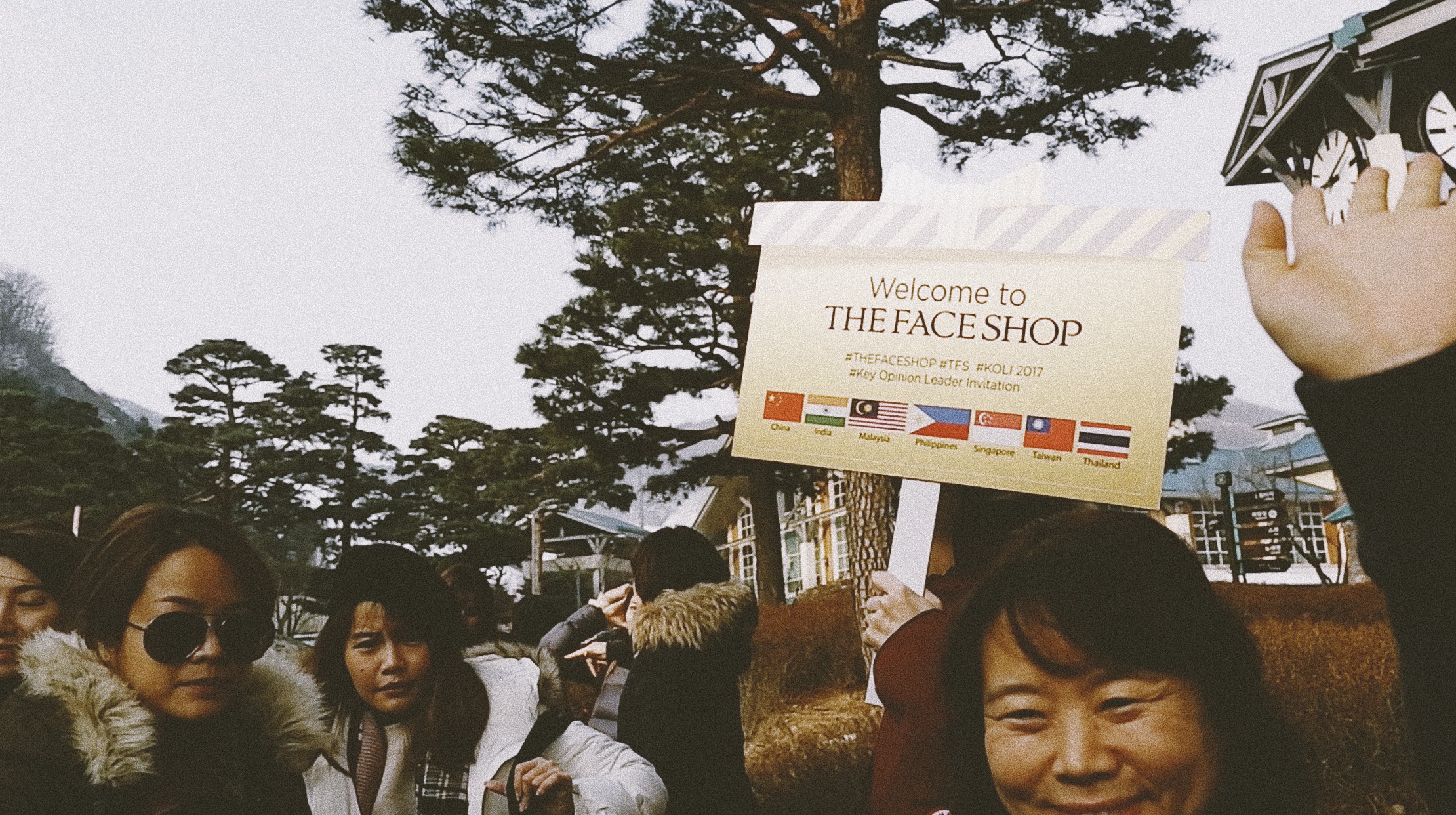 Last dinner!!!! Chicken and Beer @ Mad Fry Chicken!!!
Two days bursting at the seams with activities, I'd like to give a special thanks to The Face Shop PH, Brand Manager Miss Keti Maderazo, Mr. Paul Jang from TFS Korea, and Suyen Corporation. Thank you for giving us such a unique opportunity to learn more about K-Beauty and how we can use it ourselves here in the Philippines!!
Til next time!
Leila ♡
Leila Alcasid